Beyond Pibil and Poc Chuc: Eating Vegetarian in the Yucatan
In a nation as vast and richly varied in culture, topography, agriculture, climate, and colonial influence as Mexico, it's unsurprising that the cuisine differs markedly from region to region.
The heavy and often bland burritos, tacos, and quesadillas that many north of the border associate with Mexican cooking is less than the tip of the threshold when it comes to Mexican gastronomy. The Yucatán Peninsula, which borders the Caribbean to its east and the Gulf of Mexico to its north, boasts regional cuisine that is one of the most diverse, flavorful, and complex in the country.
Flavors originating from places as far-spread as Europe, the Caribbean, and the Middle East make unique contributions to native Mayan cuisine—bitter orange and achiote from the Caribbean, Edam cheese from trade with Denmark, and peas from Great Britain. Tacos al pastor consisting of pork broiled on the spit is Mexico's version of gyros. The most famous regional specialties of the Yucatán include pibil, consisting of marinated chicken or, more often, suckling pig, wrapped in banana leaves and grilled or baked; sopa de lima made by simmering turkey or chicken marinated in lime juice and topped with strips of fried tortilla; and the ubiquitous poc chuc, slices of pork marinated in sour orange, cooked over a wood fire and topped with onions.
So in a province where pork is grilling over every fire, lard and chicken are folded into the majority of tamales, and turkey is simmering on every stovetop, what's a traveling vegetarian to do?
We recently spent a month exploring this incredibly beautiful and rewarding region of Mexico, and along the way we managed to laze on some of the most spectacular coastline in the Americas, swim in other-worldly azure cenotes, and, yes, dine on delicious regional delicacies that didn't involve meat.
Back in pre-Columbian times, the diet of the Mayan natives was largely based around vegetables. Fish and game were minor supplements to a mainly vegetarian diet comprised of staples like black beans, avocado (originally used by the Mayans as an aphrodisiac), squash (especially chayote and zucchini), corn, tomatoes, chiles, chocolate, and greens.
The quintessential green of Yucateno cuisine is called chaya, an earthy-flavored green reminiscent of spinach or Swiss chard, and it still figures prominently in local kitchens. In Tulum we snacked regularly on savory vegetarian tamales filled with chaya and hardboiled eggs (tamales de chaya con huevo) steamed in banana leaves and sold on the corner of Avenida Tulum and Calle Centauro Norte for 12 pesos each, around .60 US cents at the time of writing.
Charly's Vegan Tacos in Tulum
Charly's Vegan Tacos
Carr. Tulum-Boca Paila km. 4.5
77760 Tulum, Quintana Roo
Another casual but slightly more upscale and ambient lunch option in Tulum is Charly's Vegan Tacos, on the road to the beach. Their veggie version of al pastor tacos that replaces the pork with ultra-savory and spicy sautéed mushrooms is excellent, as is the baked plantain dish with a pumpkin seed cream sauce. The array of condiments is worth the trip alone, from super spicy habañero salsa to mild avocado "cream" and pickled beets.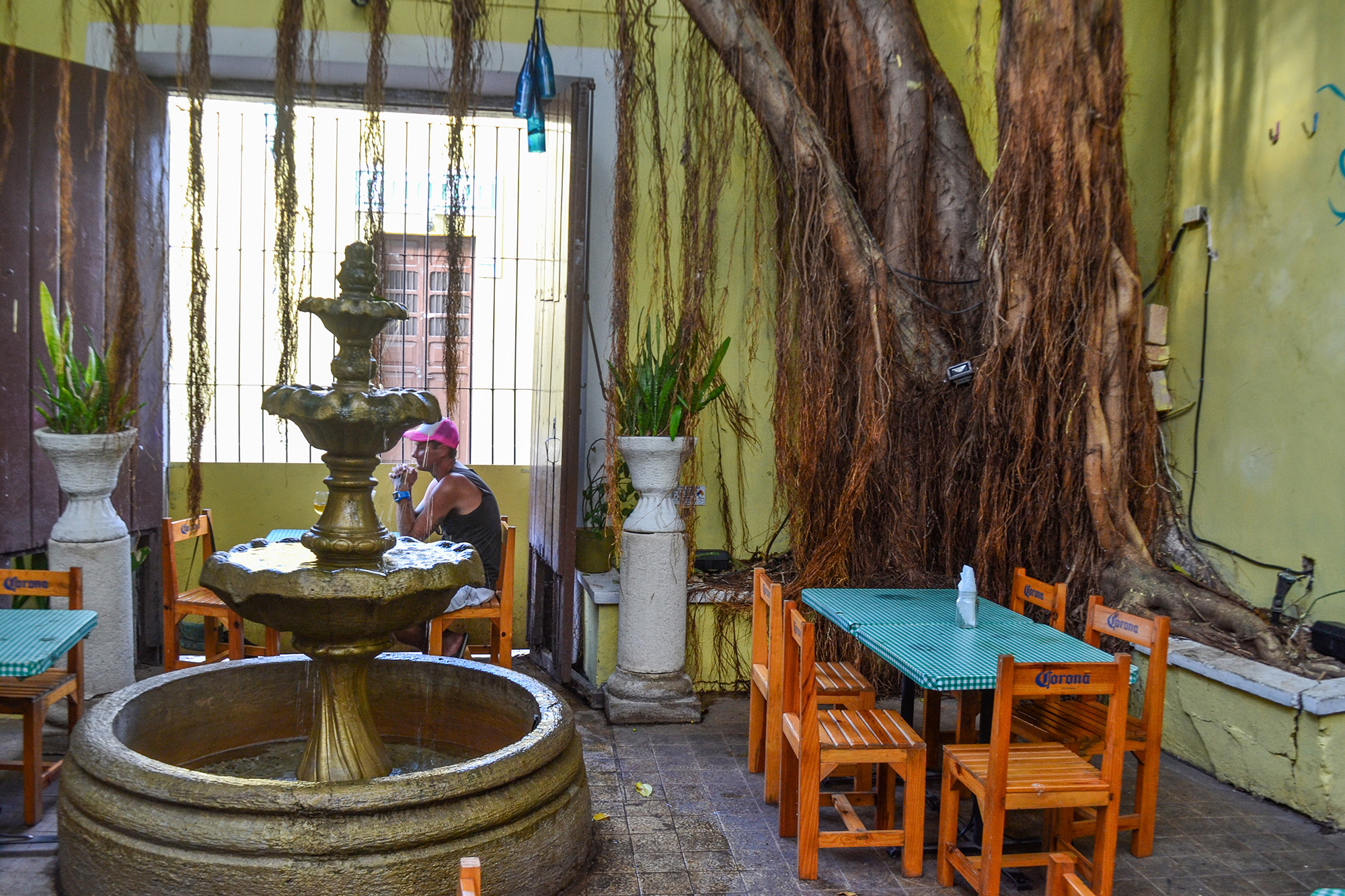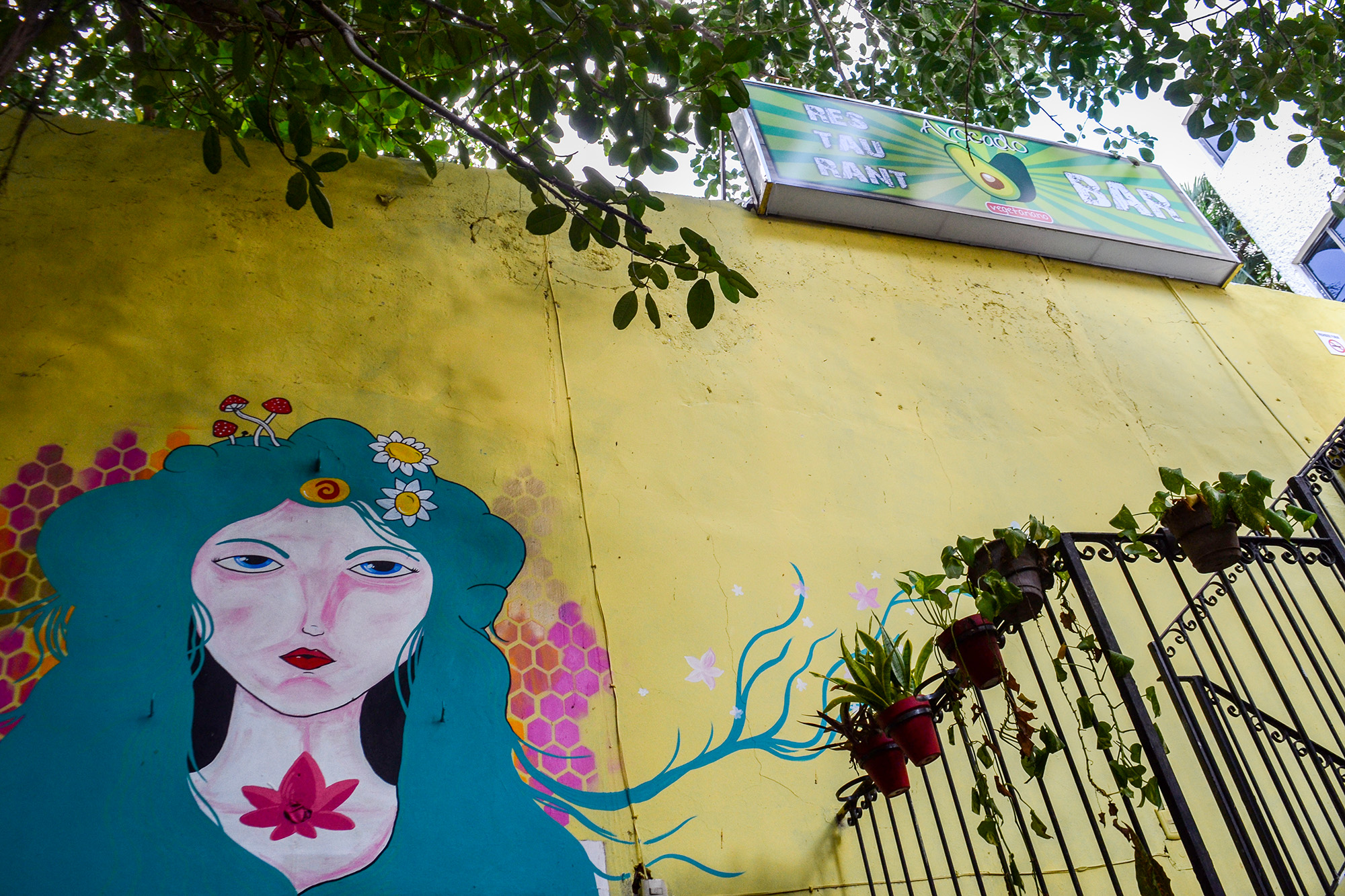 El Vegetariano
Av. Tulum con Av. Cobá
77780 Tulum, Quintana Roo
For dinner in Tulum our favorite was easily El Vegetariano, on Avenida Tulum close to the intersection with Avenida Coba. The stuffed portabella appetizer, the main course of sautéed mixed vegetables served with grilled haloumi and house-made hummus, and the lentil salad with avocado and sunflower seeds were spot-on for flavors. The friendly and prompt service, romantic outdoor candlelit atmosphere, and delicious (huge!) margaritas made this a memorable spot we revisited several times throughout our stay.
La Hoja Verde in Tulum
La Hoja Verde
Calle Beta Sur
77760 Tulum
Quintana Roo
Runner-up for vegetarian feasting in Tulum was La Hoja Verde, centrally located in Tulum Pueblo. Another inviting outdoor terrace welcomes with an all-veg menu featuring vegetarian versions of local specialties as well as crisp and light falafel, huge salads, and tempting pasta dishes. There's also a decent selection of wines by the glass, somewhat of a rarity in a tequila and beer-dominated area.
Another tranquil spot at the southern portion of the peninsula is Laguna de Bacalar, the draw for which is the breathtaking Caribbean-hued waters of the peaceful lagoon. The pueblo is small and easily walkable, with ultra-friendly residents and a blissful absence of tacky tourist traps and gringo-dominated bars and restaurants.
Mango y Chile in Bacalar
Mango y Chile
Av.3 Fuerte San Felipe
entre calles 22 y 24
77930 Bacalar
The vegetarian café Mango y Chile overlooks the laguna, close to the ancient fortress, and serves what may be the best veggie burger in all of Mexico. Made from scratch with fresh ingredients like beets, mushrooms, and garlic and served on a house-made coconut focaccia, this is the perfect refuel after a morning spent swimming in the crystalline waters of the lagoon or cycling its shores.
Heading northwest toward the Mayan ruins of Chichen Itza (necessary for any visitor) and into the actual state of Yucatán (Tulum and Bacalar are in the state of Quintana Roo) is the lovely colonial city of Valladolid. Pretty Valladolid is the third largest community in the state and home to the amazing cenotes Zaci and Ek' Balam as well as the beautiful cathedral of San Bernadino de Siena. Something enticing is cooking around every corner in this city from the simple cheap eats served cafeteria-style at the open-air El Bazar to the upscale restaurants situated around the main plaza, some of which serve what's considered some of the finest food in the Yucatán.
Papadzules in Valladoid
Cenote Zací
97780 Valladolid
Yucatan
One of the regional specialties in Valladolid that is a must-try for vegetarian visitors is papadzules, an enchilada-like main dish of thick corn tortillas filled with chopped hardboiled egg and topped with a creamy pumpkin seed sauce and finished with a tomato habanero oil. The restaurant overlooking Cenote Zaci is a particularly scenic place to sample this dish, while the excellent El Meson del Marques also does a tasty version in a pretty fountain and palm tree-lined courtyard.
Avocado Vegetariano in Mérida
Closer to the west coast of the peninsula (and a good place to begin or end a Yucatán journey) is the state's capital and largest city, Mérida. Feeling a million miles from garish Cancún and the hustle and bustle of Mexico City, Mérida exudes a peaceful charm all its own. With picturesque plazas, excellent museums, and stunning colonial architecture lining narrow streets, Mérida has plenty to offer the inquisitive wanderer. And for the best vegetarian meal in the city, look no further than the tree-shaded courtyard of Avocado Vegetariano on Calle 60 and Calle 49 downtown.
Avocado Vegetariano
Calle 60 x 49 Centro
97000 Mérida
If this is any indication of quality, we ate here three times in two days, trying everything from the mushroom ceviche to the fried avocado tacos to Avocado's lighter version of eggplant parmigiana. Every item we sampled was flavorful, well-prepared, and beautifully presented, enough to keep us talking about each meal long after we had finished. Just writing about this restaurant, several weeks later, is enough to make me salivate. If I had to pick my favorite restaurant through six weeks traveling in Mexico and Belize, Avocado in Mérida would be my top recommendation.
From chaya tamales in Tulum to hearty papadzules in Valladolid, (without neglecting to mention street food delights like elote smothered in homemade spicy aioli and cotija cheese and desserts like coconut ice cream and flan) the gorgeous Yucatán peninsula has far more to offer hungry vegetarians than beans and rice. If one is adventurous, willing to peek around corners, and take the time to wander back streets and tucked-away plazas, one is sure to find some of the most delicious and memorable cuisine in all of Mexico.
Julia Reynolds
Julia Reynolds is a travel writer, adventure enthusiast, and serial nomad living (mostly) in the Hawaiian islands. She is currently on a one-year trip around the world, avoiding air travel when possible and traveling slowly over land and sea. Some of her best travel experiences to date have been kayaking the Napali Coast of Kaua'i, diving the isolated atolls of Belize, and rock climbing in the Krabi region of Thailand. Her worst travel experiences have been getting robbed in Guatemala, breaking her back in Thailand, and breaking multiple bones in a mountain bike accident in Alaska. She still loves the places where the worst experiences occurred.
Read her stories.